Packages
Wedding Essentials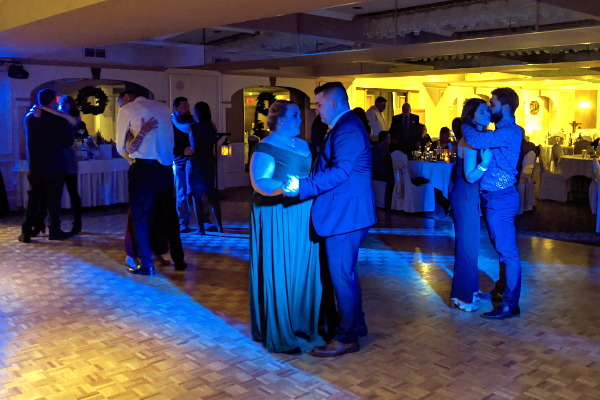 The essentials of what you need a DJ for at your wedding. Great sound, joyous music for the wedding ceremony, microphones for your guests to hear you, plus a fabulous playlist and dance lighting for your reception, all in one package price.
Starting at $1000 – includes your wedding ceremony (up to two hours), and four hours at your reception, plus cocktail hour.
Music Everywhere
You're running a Stag & Doe to have fun and raise money to fund your wedding, but all successful fundraisers need the positive atmosphere only great music can provide. This package includes everything from "Wedding Essentials", plus getting your guests rocking at your Stag & Doe!
Starting at $1300 – includes your wedding ceremony (up to two hours), four hours at your stag & doe, and four hours plus cocktail hour at your reception.
The Complete Wedding Package
When you need even more reasons to party, we've got your back! This package includes all of our wedding services plus our full service Stag and Doe Social event. Completely personalized music, plus our collection of unique games, many featuring real firefighting equipment plus that will get your guests' wallets open and keep them cheering each other on, forgetting quite how much money they've given towards your nuptials. Then let your guests pose and take pictures in real firefighter gear, to create your own FLAMETHROWER Calendar.
Starting at $1500 – includes your wedding ceremony (up to 2 hours), four hours at your reception plus cocktail hour, and four hours of music, games, and photo booth at your Stag & Doe.
Stag & Doe Socials
Already have a DJ for your wedding itself, but still need something for your Stag & Doe? Party Rescue is here to rescue your party! Music to keep everyone dancing, and games to get the coins flowing so you can pretend to be Scrooge McDuck and swim in a (kiddy) pool full of cash.*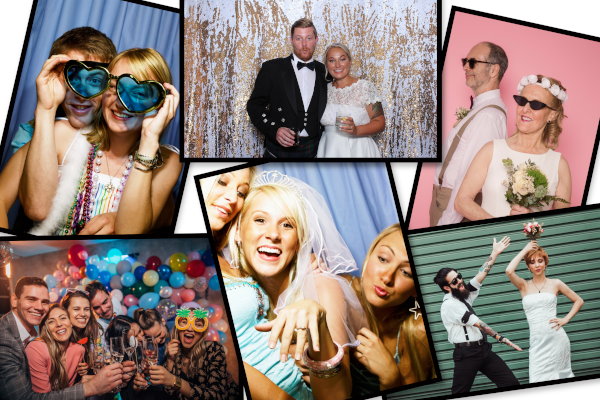 And never forget these precious memories, by getting your guests to pose for pictures wearing real firefighter gear and a variety of costume pieces, to create your own sexy/funny/family appropriate FLAMETHROWER Calendar. Use our handy template and print or PDF the calendars for a great and memorable creation you can give out as a wedding thank you gift.
* Party Rescue makes no guarantees that there will be enough coins to fill a pool of any size.
Starting at $650 – includes four hours of music, and games rental, and FLAMETHROWER calendar photo booth at your Stag & Doe.
Individual Services
Wedding Ceremony Music & Audio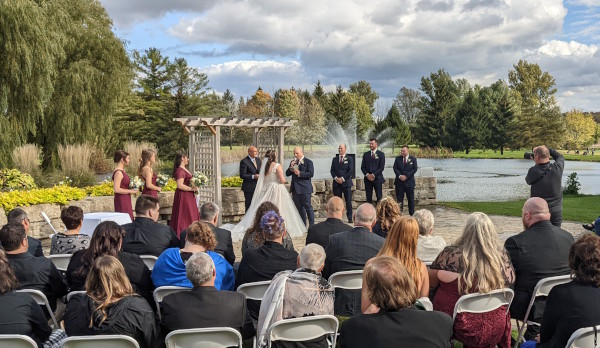 It's important your big day has the right mood, and crucial the audience can hear you when you say, "I Do".
Party Rescue will make this happen with:
Powerful 1600W sound system
Selection of wired and wireless microphones
Personalized selection of music, before, during, and after the ceremony
Professional DJ
DJ's partner to help coordinate exact timing
Starting at $250 – includes audio equipment and music for your ceremony, up to two hours.
Wedding Reception Music & DJ
Speeches, cake cutting, dances, revelry—your reception will be fun, and here's how DJ Jenn will keep it running smoothly:
Work with you to develop a fully custom playlist, tailored for you and your wedding
Act as an MC, make announcements, or whatever level of engagement you'd like
Keep the dance floor going with the right beats at the right time
Deal with any glitches, technical or otherwise
Makes sure you stay the star of your show
The equipment we bring to keep things rockin':
Powerful 1600W sound system
Selection of wired and wireless microphones
Dance floor lighting
Additional equipment available upon request
Starting at $800 – includes four hours of music, DJing, and audio equipment, plus cocktail hour.
Stag & Doe Music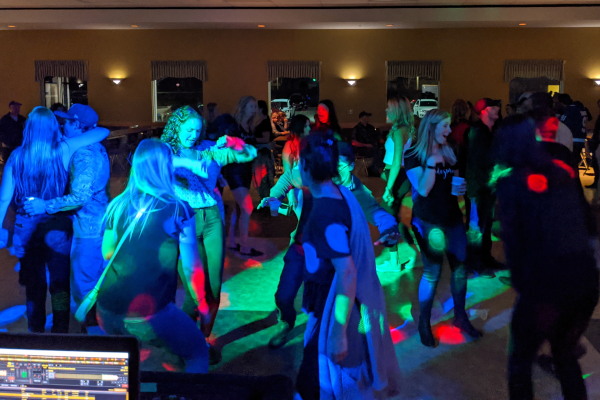 You have the games, but you need the tunes. Select from themed playlists, tailored to fit your tastes; we'll work with you to make your party as fun and effective as possible. Includes the following equipment:
Powerful 1600W sound system
Dance-floor lighting
Wired and wireless microphones for speeches and announcements
Professional DJ
Starting at $350 – includes four hours of music and equipment.
Stag & Doe Music & Games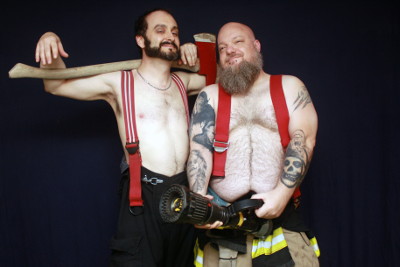 There's a lot of options for games out there, but you don't have time to find them or make them all. Party Rescue removes the hassle by offering our collection of games for you to use, and tips on how to charge for them.
A sample of what we offer:
Costume Race – Race against another player to speedily dress in a full firefighter outfit
Animal Rescue – Compete against other players to catch cute stuffed animals in our old-fashioned nets.
Dart Poker – Throw darts at a board covered with playing cards. Highest Hand wins!
Giant Jenga
The Board Walk – Partners or Teams compete to walk as a group using giant boards.
Firefighter Dress-Up Photo Op
And more!
We provide the games, but while we will be there to provide assistance, including setup and teardown, it's up to you to find someone to operate them.
Starting from $550 – Includes four hours of games rental, and music & equipment.
Fire Truck Photography
Did you know that photos of a white dress really pop when they're in front of a big red truck? Well, now you do!
Have your pictures taken with our fire truck—inside or outside, decorated to your tastes—and your choice of authentic firefighting equipment, including helmets, axes, hoses, and outfits. Don't forget to try out the lights and siren.
Starting at $250 for up to one hour of photography, or $75 if added on to your ceremony and reception.
Fire Truck Escort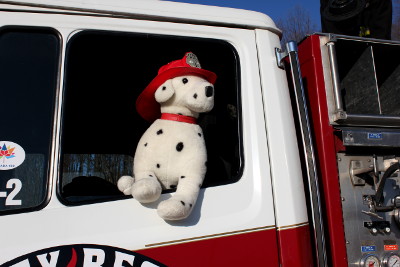 Arrive in style with your own personal fire truck escort.
It will make your entrance to the ceremony even more memorable, and make sure everyone knows you've arrived at the reception. As an added bonus, if you're travelling from the ceremony to the reception as a group, a fire truck leading the convoy makes it easy for everyone to follow.
For legal reasons, we cannot run the lights & siren on public roadways (private property is fine), and we are presently unable to provide rides.
Starting at $400 for up to 20km, or $150 if you hire us as your ceremony and reception DJ.
Discounts
No Tax
Our prices are as-listed, no additional HST!
First Responders
Firefighters, police officers, and paramedics, can receive an additional discount (with proof of service):
10% if the bride or groom are active-duty
5% if the bride or groom have retired from service, or if a member of the wedding party is active-duty
Own Equipment
If your venue offers audio equipment to use, or you are providing & setting up your own, we include a discount for the time & effort saved.
Additional Charges
We know extra fees suck, but we'd rather be up-front about them than keep it a surprise until later.
Fuel Surcharge
Our truck is unfortunately not very fuel efficient. While it won't apply to most events in Kitchener-Waterloo, we sometimes need to add a fuel surcharge.
We will let you know when you book, along with an estimate. The cost will depend on gasoline prices at the time of the event, so is subject to change
Extra Equipment
We will do our best to make everything fit your needs, but if you want any additional equipment—lights, speakers, microphones, etc.—beyond what we have, rental or purchasing costs may be charged.